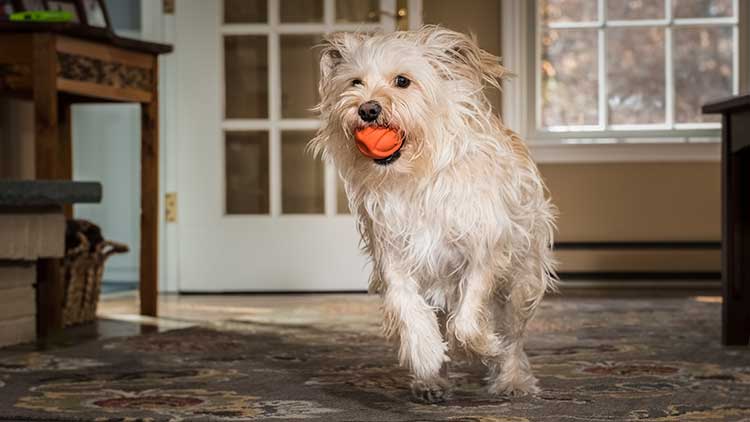 As a professional dog trainer, I'm always scanning the dog world for new mental enrichment ideas for dogs, especially when dogs are left alone all day. Thankfully, technology is advancing and now new gadgets and apps are being created for dogs as well.
Food stuffed toys and puzzles are excellent ways to keep your dog entertained. And when they're combined with technology, your dog will be exhausted when you arrive home from work. Check out my favorite high tech dog toys. Your dog will thank you!
Dog TV Channel
Believe it or not, dogs now have 24-hour access to their own cable channel. For $5 a month, Dog TV will keep your dog entertained for hours. Dog TV was created with the help of several leading dog behavior experts, and it continues to research new sound and visual ideas.
This channel can calm stressed dogs and provide mental enrichment with different sounds. It's also a great way to introduce a variety of sounds to a puppy, such as a baby crying or meowing cat. Now, some dogs might dislike certain sounds, so it's best to watch Dog TV with your dog first.
Automatic Dog Treat Dispensers
This is easily my favorite dog gadget ever! There are a number of automatic dog treat dispensers that allow you to visually check in on your dog and dispense treats. Additionally, some automatic dog treat dispensers have timers and can dispense treats throughout the day or during short treat sessions. Pairing this gadget with food stuffed toys is a fantastic way to keep dogs mentally enriched all day long. Check out these automatic treat dispensers; my favorite is Pet Tutor and Furbo dog camera is pretty good too.
iFetch
For dogs that love playing fetch or chasing a ball, they can now play this game alone in the comfort of their home. iFetch is an amazing automatic ball dispenser that will toss balls through a kitchen or down a hallway for endless fun. Dogs learn how to drop the ball back inside the dispenser to continue the game—no human needed! This dog game will keep your dog's brain busy while providing her physical exercise. This is especially helpful for dogs that need to lose a few extra pounds. Of course, if your dog is obsessed with fetch and obsessively chases balls for hours on end, then I would not recommend this game.
[ad_2]